Categories
Effort
Certification
Languages
Misc
MOOC List is learner-supported. When you buy through links on our site, we may earn an affiliate commission.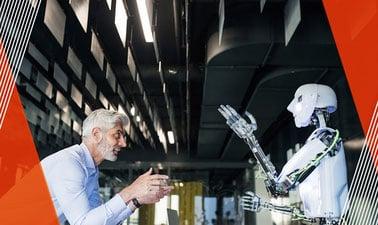 En este curso aprenderás sobre los factores importantes que se requieren para fundar un negocio digital, desde la importancia del propósito del negocio, hasta las implementaciones de la IA en las diferentes industrias. La inteligencia artificial es una disciplina de las ciencias de la computación que ha buscado emular los procesos del pensamiento humano para crear máquinas inteligentes que logren tomar decisiones con base en los datos que se presenten.
MOOC List is learner-supported. When you buy through links on our site, we may earn an affiliate commission.
Esta tecnología se comenzó a desarrollar a mediados de los años 50's presentando un crecimiento intermitente en sus inicios. La inteligencia artificial y el aprendizaje máquina comenzaron a tomar fuerza en los años 90's y en los inicios del nuevo milenio se consolidó como una ciencia con mucho potencial gracias al surgimiento del Big Data y el internet.

En los albores del siglo XXI muchas compañías han aprovechado las bondades de la inteligencia artificial. Amazon, Uber, AirBnB, entre otros, han invertido en esta área para crear nuevas aplicaciones y oportunidades de negocio basadas en la Inteligencia Artificial, Machine Learning y Deep Learning. Los bancos e instituciones financieras también utilizan esta tecnología para identificar posibles fraudes y dar confiabilidad a los procesos informáticos en las transacciones bancarias.

Los desafíos económicos que se presentan en esta época de pandemia encuentran una solución en estas herramientas computacionales. La nueva generación de emprendedores debe de estar a la vanguardia en el uso de la inteligencia artificial para aplicarla en la construcción de nuevos negocios que se sitúen en el ambiente digital y abarcar mayor cantidad de usuarios o clientes. El surgimiento de startups y nuevos métodos de financiamiento, como el crowdfunding, son una alternativa cada vez más utilizada por aquellos que confían en el desarrollo de negocios basados en las herramientas digitales.

Esta tendencia no es exclusiva de los tiempos de pandemia, sino que seguirá vigente una vez acabe la contingencia sanitaria y tomarán fuerza los negocios que hayan aprovechado desde un inicio las nuevas tecnologías.

Este curso tiene la intención de ser un referente para la nueva generación de emprendedores y brindar una guía para constituir negocios utilizando la inteligencia artificial.

Exploraremos la definición de negocios digitales y daremos un repaso por los nuevos esquemas de financiamiento que existen y los diferentes métodos de realizar emprendimiento digital. Además, sentaremos las bases de la llamada "transformación digital" que muchas pequeñas y medianas empresas necesitan realizar para adaptarse al nuevo paradigma de negocios.

Abordaremos la metodología de marketing digital para captar clientes utilizando redes sociales para identificar a tu público y dirigir los esfuerzos de tu estrategia de mercadotecnia. Revisaremos diferentes métodos de prueba para entender a tus clientes de tal forma que la información sea útil para adaptar tu producto a sus necesidades y revisaremos las mejores rutas para publicitarlo.

Revisaremos los diferentes roles que existen para construir tu equipo de ciencia de datos con el objetivo de poseer un análisis profundo de tus negocios y realizar análisis predictivos para una mejor toma de decisiones. Abordaremos la importancia de la ciberseguridad y el cómputo en la nube para la gestión de datos.

Por último, revisaremos la importancia de la ética en la inteligencia artificial. Los datos de tus clientes son muy sensibles, por lo que es importante tomar en cuenta las buenas prácticas y legislaciones
This course is part of the Inteligencia Artificial aplicada a los negocios Professional Certificate
What you'll learn

- Aprenderás qué es un negocio digital y sus principales componentes.

- Comprenderás cuales son los factores que hay que tomar en cuenta para realizar una campaña de marketing digital.

- Identificarás los roles importantes para la constitución de un equipo de científicos de datos que ayuden a realizar un análisis predictivo para la mejor toma de decisiones.

- Conocerás los principios éticos fundamentales para el manejo de la inteligencia artificial y la gestión de datos.
Syllabus
Semana 1: Negocios digitales e inteligencia artificial.

Aprenderás a llevar tu negocio de 0 a 1. Además, comprenderás los patrones que han aplicado las empresas unicornio.
Semana 2: Marketing digital para los nuevos negocios.

Comprenderás las metodologías de planificación, implementación y gestión de estrategias en marketing digital. Aprenderás las diferentes herramientas que se utilizan para el desarrollo de marketing digital.
Semana 3: Roles y herramientas de IA para el análisis de negocios.

Comprenderás cuáles son los roles necesarios para crear un equipo de ciencia de datos que ayude a recolectar y analizar datos para la toma de decisiones.
Semana 4: Ética en los negocios digitales.

Comprenderás cómo las empresas digitales deben buscar mejorar la calidad de vida de las personas utilizando las nuevas tecnologías. Además aprenderás sobre la deontología de los negocios e identificarás la importancia de la existencia de comités éticos y códigos de conducta para regir procesos y gestión de datos.
MOOC List is learner-supported. When you buy through links on our site, we may earn an affiliate commission.
MOOC List is learner-supported. When you buy through links on our site, we may earn an affiliate commission.