Categories
Effort
Certification
Languages
Misc
MOOC List is learner-supported. When you buy through links on our site, we may earn an affiliate commission.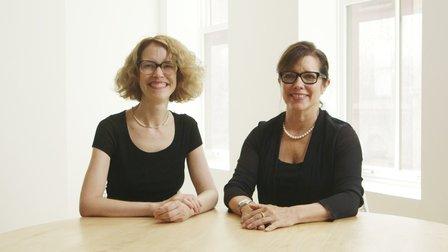 Great graphic design comes from understanding just a few basic principles. Cracking the code to great design is much easier with a solid foundation of core principles. Join designers Ellen Lupton and Jennifer Cole Phillips for an essential, 35-minute class as they walk through 5 basic principles of graphic design, perfect for use in all projects using images and type — creative design, marketing materials, and even photography!
MOOC List is learner-supported. When you buy through links on our site, we may earn an affiliate commission.
The lessons include both examples and demonstration, giving you a foundation to create inspired, functional design. You'll learn to:

- Identify and define 5 basic design principles

- Critique your work for effectiveness and balance

- Apply each core concept in future projects

Whether you're new to these principles or are looking for a refresher, you'll gain a solid understanding of the visual language that fuels all great design.
What You'll Learn
Introduction. Ellen Lupton and Jennifer Cole Phillips will lay out the 5 basic principles of graphic design — symmetry, scale, framing, hierarchy, and grids — and preview what you'll learn in the rest of their design course.
Symmetry vs. asymmetry Ellen will expound on her love for symmetry in design, and Jennifer will talk about her passion for asymmetry. You'll learn how both should employ balance and can be dynamic, especially with the introduction of contrasting colors, shapes, and patterns.
Scale. Scale is about size, but more than that, it's about relationships. Ellen and Jennifer will explain how these relationships can tell a visual story by creating tension and energy on (and with) the page. You'll discover how to surprise an audience using scale by playing with their expectations, and you'll learn how scale can take on an especially important role in business logo design.
Framing. "Every time you change the cropping in Instagram, you're framing," Ellen says, and it's true — framing is something you already do all the time. In this lesson, you'll learn how prevalent framing is in the design process and get introduced to the 3 main types of framing: margins, bleeds, and partial bleeds.
Hierarchy. The keys to hierarchy are separation and difference. You'll see how to use the two to order information and direct readers across a text — important lessons to keep in mind when creating logos. Ellen and Jennifer will go over an exercise in which you'll apply hierarchy to a plain block of text, and you'll learn the usefulness of color when it comes to textual hierarchy.
Grids. A grid is a powerful tool for bringing structure and efficiency to your page design. In exploring different grids, you'll learn the difference between margins and gutters, how blank space doesn't have to feel like empty space, and how to make a basic grid in Adobe InDesign. You'll also examine the difference between web and print grids.
Demo: Bringing it all together. In this exercise, you'll start by choosing 3 to 6 photographs and 1 to 2 typefaces. These will be the basic elements you'll incorporate into your page layout design. You'll learn how to create guides in InDesign and use pencil-drawn thumbnails as "mini blueprints" for your design. You'll then watch as Jennifer defines typographic hierarchy, plays with scale, and anchors text to images.
Conclusion. Ultimately, you'll find that you can design icons, magazines, web pages, and even wedding scrapbooks using the 5 basic graphic design principles Ellen and Jennifer discuss in their class. Beyond the 5 basic principles, students can take their knowledge further by exploring advanced graphic design essentials like layers, transparency, time and motion, and gestalt psychology. The key takeaway from this course? Graphic design is all about relationships — the relationships between one design element and another, that element and the page, and that element and yourself.

Put the core principles of graphic design to the test! Use InDesign, Photoshop, or even PowerPoint to arrange both text and image in a way that lets you practice using these 5 core principles of visual layout:

- Symmetry & Asymmetry

- Scale

- Framing

- Hierarchy

- Grids

You can start a brand-new project or upload and improve something from your portfolio. Remember that your core challenge is to create a layout that is both engaging and effective. As a reader, is your eye drawn to the most important thing? How does the layout change if you make an important element bigger, smaller, or even move it to the side? Play with the principles to find the right fit!
MOOC List is learner-supported. When you buy through links on our site, we may earn an affiliate commission.
MOOC List is learner-supported. When you buy through links on our site, we may earn an affiliate commission.